Stoudamire Named Georgia Tech Men's Basketball Head Coach
THE FLATS – Damon Stoudamire, well-known throughout the basketball world for his success as a player and coach at the collegiate and professional levels, has been named the 15th head coach in Georgia Tech men's basketball history, Tech announced on Monday.
Stoudamire comes to Georgia Tech after most recently serving as an assistant coach of the Boston Celtics, who currently sit atop the NBA's Atlantic Division standings. He was with the Celtics for nearly two seasons (2021-22 and 2022-23), after a successful five-season stint as the head coach at Pacific (2016-21). At Pacific, he was named West Coast Conference Coach of the Year in 2020 after leading the Tigers to a 23-10 record in 2019-20, good for the program's best winning percentage (.697) in 15 years, and a third-place finish in the powerful WCC (behind only national powers Gonzaga and St. Mary's).
"We are thrilled that Damon Stoudamire will be the head coach of our storied men's basketball program," Georgia Tech director of athletics J Batt said. "Coach Stoudamire's success and credibility as a player and coach at both the collegiate and professional levels make him a great fit to lead our program. He will serve as an outstanding mentor on and off the court and will attract talented student-athletes to The Flats. We could not be happier to welcome Coach Stoudamire to the Georgia Tech family."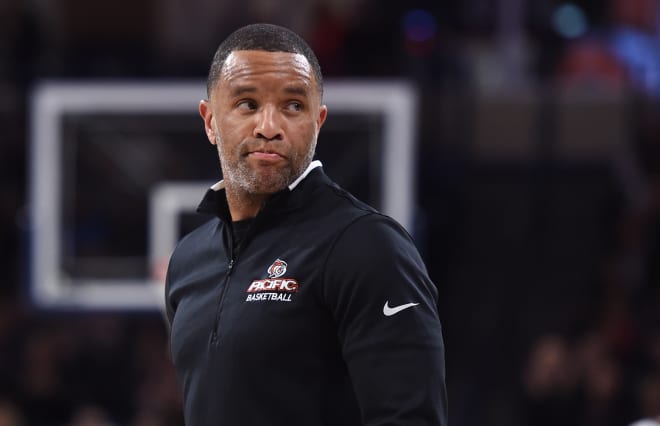 "We are excited to welcome Coach Stoudamire to Georgia Tech," Georgia Tech President Ángel Cabrera said. "His impressive track record as a coach in college and the NBA, and his own experience as a student-athlete and professional player, will be invaluable assets for the Institute's men's basketball program and our student-athletes. His passion for player development and continuous improvement aligns with our culture of excellence and our commitment to student well-being and success."
Stoudamire established himself as one of his generation's premier players when he was a three-time all-conference performer, the 1995 Pac 10 co-Player of the Year and a consensus first-team All-American at Arizona, where he played for four seasons from 1991-95. After helping lead the Wildcats to the Final Four as a junior in 1994, he capped his collegiate career by averaging 22.8 points per game, en route to the co-conference Player of the Year and consensus first-team All-America recognition in 1995. He was a finalist for 1995 Wooden Award (National Player of the Year).
At the conclusion of his Arizona career, Stoudamire was the Wildcats' all-time leader in 3-pointers made (272) and ranked second in points (1,849) and fourth in assists (663). He was the only player in Arizona history with two 40-point games.
His amateur career also included helping lead the United States to the gold medal in the 1993 World University Games (where he led the team in assists and steals despite being the youngest player on the roster) and the bronze at the 1994 Goodwill Games.
Stoudamire was selected by the Toronto Raptors with the seventh overall pick in the 1995 NBA Draft and averaged 13.4 points and 6.1 assists per game over the course of a 13-year professional playing career that included stints with the Raptors (1995-98), Portland Trail Blazers (1998-05), Memphis Grizzlies (2005-08) and San Antonio Spurs (2008). He was named the 1996 NBA Rookie of the Year after averaging 19 points and 9.3 assists per game in his first NBA campaign, the first of four-straight seasons that he averaged at least 17 points and eight assists per contest.
Following the conclusion of his NBA playing career in 2008, Stoudamire immediately embarked on his coaching career, beginning as director of player development at Rice in 2008-09. He then went on to serve as an assistant coach with the Memphis Grizzlies for two seasons (2009-11), before getting back into the college game with stints as an assistant at Memphis (2011-13), his alma mater Arizona (2013-15) and again at Memphis (2015-16).
After helping lead Memphis and Arizona to four conference championships (two Conference USA titles at Memphis, two Pac-12 crowns at Arizona) and four NCAA Tournament berths (including back-to-back Elite Eight appearances at Arizona) in six seasons, Stoudamire was hired as the head coach at Pacific in 2016. He inherited a program coming off an 8-20 campaign and quickly built it into a WCC contender, highlighted by the 23-10 campaign in 2019-20. The Tigers' 11-5 conference record that season remains their most-ever wins in WCC play. Combined with a 9-9 record in league play in 2017-18, Stoudamire led Pacific to its only two .500-or-better conference records since the Tigers joined the WCC in 2013-14.
After posting a 9-9 overall record during the Covid-shortened 2020-21 season, Stoudamire returned to the NBA as an assistant coach for the Celtics. In his first season in Boston, he helped lead the Celtics to the 2022 NBA Finals. This season, the Celtics stand in first place in the Atlantic Division and in second both in the Eastern Conference and in the NBA's overall league standings. With Boston, he has coached a pair of metro-Atlanta natives in Malcolm Brogdon (Norcross, Ga.) and Jaylen Brown (Alpharetta, Ga.).
"I am humbled and honored to be the head coach at Georgia Tech," Stoudamire said. "It is an incredible honor to be entrusted with leading such a tradition-rich program. I am excited to get to work with the goal of consistently having our team compete at the championship level that we all know we can and should compete at. I'm proud to represent Georgia Tech and can't wait to walk out of the tunnel and onto the floor at the Thrillerdome in front of our fans. Go Jackets!"
A Portland, Ore. native, Stoudamire, 49, graduated from Woodrow Wilson H.S. in 1991 and earned his bachelor's degree from Arizona in 2008. He has a daughter, Kemeco, and two sons, Damon and Brandon.
THE DAMON STOUDAMIRE FILE
PERSONAL
Hometown: Portland, Ore.
Family: Daughter: Kemeco; Sons: Damon and Brandon
Alma Mater: Arizona, 2008
PLAYING EXPERIENCE
1991-95: Arizona
1995-98: Toronto Raptors
1998-2005: Portland Trail Blazers
2005-08: Memphis Grizzlies
2008: San Antonio Spurs
COACHING EXPERIENCE
2008-09: Rice (director of player development)
2009-11: Memphis Grizzlies (assistant coach)
2011-13: Memphis (assistant coach)
2013-15: Arizona (assistant coach)
2015-16: Memphis (assistant coach)
2016-21: Pacific (head coach)
2021-23: Boston Celtics (assistant coach)
2023-: Georgia Tech (head coach)
WHAT THEY'RE SAYING ABOUT DAMON STOUDAMIRE
"Congratulations to Damon and Georgia Tech. We are thankful for everything that Damon has contributed during in his time in Boston. He's a great teammate – he works hard, he cares about everyone in the room, and he has a special feel for the game. We will all miss having him here, but are thrilled for him and will be rooting for his success with the Yellow Jackets."
- Brad Stevens, President of Basketball Operations – Boston Celtics
"Damon is a great person, successful leader, and will be a great head coach. He has an ability to build genuine relationships, connect with players, and bring an organization together for a common goal. His loyalty, basketball experience, work ethic and personality made the Celtics better. We will miss him as a person and coach. Georgia Tech is lucky to have him."
- Joe Mazzulla, Head Coach – Boston Celtics