Gueye out, Jackets battle illness heading to Wake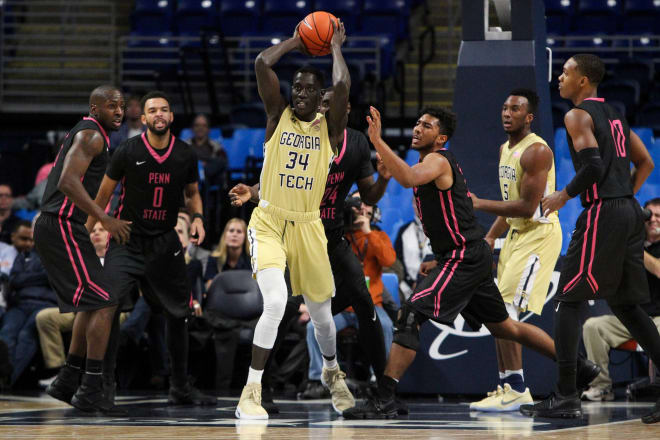 Georgia Tech is already thin in the frontcourt and sophomore forward and the Jackets lone regular backup big man Abdoulaye Gueye is out possible for the year after an injury in the Clemson game. On top of Gueye's injury, bug has been decimated the roster and lots of the student body at Georgia Tech. The Jackets will head to Winston-Salem shorthanded to face Wake Forest.
"AD will most likely be out for the year. He has a wrist injury to his left wrist so he will be done for the year. He hurt it in the game at Clemson,"first-year head coach Josh Pastner said. "It is a long shot he will be back. There is a small chance depending on the doctors on how quickly he heals. He has a fracture in his wrist."
It will be a committee and situational set of replacements or Gueye. Sylvester Ogbonda will handle the backup center duties behind starter Ben Lammers while Gueye's work behind Quinton Stephens at power forward could fall to a mix of Ogbonda, grad transfer Kellen McCormick and freshman Christian Matthews.
"It is a big loss for us, he was just starting to play well for us," Pastner said.
Ogbonda is one of the Jackets struggling with sickness this week along with starting point guard Josh Heath.
"Josh Heath did not practice yesterday he was sick," Pastner said. "Sylvester did not practice yesterday he was sick. Quinton practiced and Tadric practiced. I think Justin Moore for is doubtful for tomorrow, he has an abdominal injury. We will just see how it goes. We have to be the next man up team. We've become a good team, but part of being a team is the next man has to step up, produce and get it done. We are hanging by a thread due to injuries. Guys will give us great energy, execution and effort. They will give us a chance.
The Deacons and Jackets are both 13-9 on the season heading into Saturday afternoon's game.