Georgia Tech basketball improving with confidence and health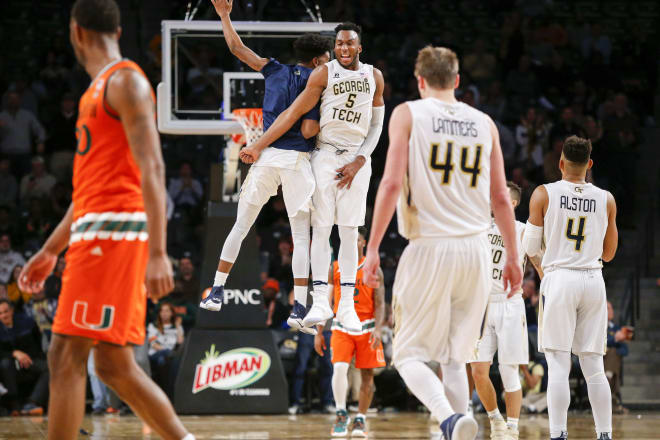 The year 2018 is upon us, and no one has been anticipating it more than Georgia Tech men's basketball coach Josh Pastner. Pastner's second season as head coach started back in early November, but unfortunate circumstances such as suspensions and injuries made the first two months of the season frustrating experience for fans, coaches, and the team.
Inconsistent is the best word to describe the performance of Pastner's team during November and December. The Jackets opened their season in China as underdogs against UCLA, and nearly pulled out a win without two of their best players in Josh Okogie and Tadric Jackson. Jose Alvarado was also playing in his first collegiate game. They then responded with four straight wins, including a win over Northwestern, a quality Big Ten opponent, thanks to a buzzer beater from Tadric Jackson in his second game back from suspension. Things were looking up for the Jackets.
It didn't last long. Any momentum the Jackets gained during their four-game winning streak was quickly lost after an own basket in the closing seconds coasted Georgia Tech the game against the Grambling State Tigers, who had one win entering the game and two wins since. It was the first of a three-game losing skid for the Jackets that included a loss to Wofford.
Suddenly, the energy around the program wasn't so positive. Ben Lammers, the Jacket's starting center and 2017 ACC defensive player of the year, was playing on a hurt ankle and struggling to find his groove. Okogie was still benched with a finger injury. The team was struggling to find their identity.
Then 1-12 Florida A&M came into town to take their shot at the Jackets in a game that saw Josh Okogie make his return to the court. A 19-point performance from both Okogie and Moses Wright helped the Jackets snap their losing streak and top FAMU, 79-54. Okogie's return and a great game from Wright was a positive sign for Georgia Tech, but like before, it wouldn't last.
It was an embarrassing December for the Jackets, who suffered a blowout loss to Georgia in Athens in a game that was arguably Georgia Tech's worst defensive showing of the season. Yante Maten made it look easy against the Jackets, finishing with 24 points en route to a 80-59 win over Tech. Three days later, Wright State rallied from an 11-point deficit to beat Georgia Tech at home despite four Jacket's finishing with double digits. It took the Jacket's all they had to top Coppin State, who had no wins entering the contest. Then finally, Bonzie Colson and Notre Dame dropped Pastner's Jackets below .500 with a 68-59 win in Mike Brey's historic 393rd win with the Irish.
"If I could petition the NCAA to not count the games pre-Christmas, I would. I've been saying we can become a dangerous team, we just have to keep getting better", said Coach Pastner.
For the second ACC matchup of the season, Georgia Tech looked to be just the second team to beat the fifteenth ranked Miami Hurricanes. For the first time all year, an entire roster of a healthy 16 Yellow Jackets participated in team activities before the game. "This is really the beginning of our season when you look at it", said Pastner.
The season started with a bang. A 30-point, nine-rebound performance from Josh Okogie lifted Georgia Tech above the Hurricanes, but Okogie wasn't the only bright spot from the game. Freshman guard Jose Alvarado scored 12 points and played lights out defense, recording two steals and two more blocks. The Jacket's defense played at an elite level, allowing Miami to shoot just 37% from the field and 21% from behind the arc.
Alvarado weighed in on the win, saying, "It was a big time win for us. Every game is a good win, but that was just a big time win for us. We definitely got our confidence back and got back in our mojo. We have our swag back. Hopefully we continue playing, we have a big one Saturday against Yale, and we're going to continue the energy and keep playing Georgia Tech basketball."
That's just what they did. Jose Alvarado shined, scoring 23 points while tacking on six assists and four rebounds. His confidence was proven by his flashy play and can be seen in this crafty assist on a Josh Okogie slam in the second half.
Josh Okogie added 20 more points, and Abdoulaye Gueye had arguably his best performance of the season, tallying a career-high 14 points on 50% shooting and snatching nine rebounds, also a career-high.
Coach Josh Pastner has had high praise for the team after the past two showings and sees improvement in all aspects of the game. The schedule won't get any easier, but Pastner says that his teams always get better as the year goes by. This second half of the season has proved Pastner correct so far. Although the unfortunate losses that the Jackets suffered before Christmas do count, Georgia Tech's post-season hopes are not out of the question. There is a lot that needs to be done, but if the team continues to improve then you could see them being just as good or better than the 2016-2017 team. The Jackets will have another chance to get a big ACC win on Wednesday against a banged-up Notre Dame squad.