Sims moves into the spotlight this spring at QB
Georgia Tech fans saw flashes of the great things Jeff Sims can do at quarterback during his freshman season On The Flats with several memorable plays in big spots. But on the opposite end of the spectrum, there were also plenty of growing pains for the young signal-caller.
As he enters year two as the Jackets' starter at quarterback, the goals are simple for Sims, continue to improve, learn more about and be in control of what can make the offense successful and be more consistent.
Sims is coming off a freshman season in which he started all nine games for Georgia Tech and passed for 1,707 yards and 12 touchdowns, but there were also nine interceptions mixed into the stats. Sims, who began Spring Practice last week with his Tech teammates said he knew what needed to be worked on in the offseason, and he feels like that work has set him up for a more steady sophomore season this Fall.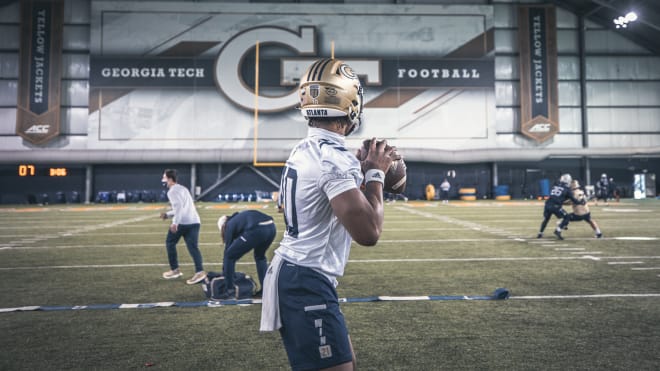 "We really just went over my decision-making and ways that I could execute the offense better…slow the game down," said Sims of his offseason studies. "We made a big emphasis on just watching film and learning, and I made a big emphasis for myself to learn more about the protections so I can be in more control of the offense.
"It definitely feels way more comfortable than last year just because I've grown in the offense, and I've learned it better. There are still things I can learn, but just going out there having the confidence that I can check plays, check a protection and know exactly what the defense is doing is really helping because we can get the offense moving. I can slow it down. I can speed it up. It's really just helping because I have more control of the offense."
Barring an injury, Sims appears locked in as the starter as the Jackets go through Spring drills with rising redshirt-sophomore Jordan Yates, true freshman Chayden Peery and rising junior Demetrius Knight II battling it out for backup reps. Knight moved to quarterback, the position he played in high school, following his first two seasons at Tech playing linebacker.
Despite most around the program believing Sims has the starting spot sewn up for the foreseeable future, Sims himself said he knows he can never take anything for granted with the talent behind him on the depth chart.
"At the end of the day competition is always going to be there," said Sims. "So in my head, I'm working like I'm still trying to win the starting job and just going out there and getting better each day and showing what I can do."
That kind of attitude and determination to continue to try to prove himself and do everything he can to improve has caught the attention of Georgia Tech offensive coordinator Dave Patenaude who said during his media availability last week that Sims had a very productive offseason following his up and down freshman year.
"Jeff is extremely focused on what he has to do to get better at, and he has spent a tremendous amount of time in the office with me," said Patenaude. "The cool thing is, my office is halfway between the locker room and the cafeteria, right. So they walk by my office all the time. A lot of times, I'm not even in there. We might be in a staff meeting. I might come back in there and two or three of those guys are sitting in there watching tape, and we give them a list of stuff, all the cut-ups. We watched some pro tape, we watched some of the other colleges who are running some tempo offenses and some of the guys that have done a good thing and done some good things with the things that we're trying to do. He's absorbed it all in. He's so self-critical that he never wants to put himself in a position where he's making the same mistakes that he made as a freshman."
Among the players Sims studied in the offseason was a pair of NFL quarterbacks that are coming off incredible 2020 seasons. Sims said anything he can take from guys like that and work into his game is definitely something he's trying to do.
"Really we watched the Buffalo Bills to look at Josh Allen's technique and mechanics of how he throws the ball and the power that he throws with," said Sims. "And then on my own time, I spent some time watching Aaron Rodgers just to see how he conducts his offense. His offense moves the ball so smoothly. I just wanted to see how he sits back there so calm and goes over the game and goes through his progressions."
One area of improvement that Sims said he knows has to be focused on is his completion percentage. He completed 55.9 percent of his passes as a freshman with only two games above 60 percent.
"(I'm working on) just being more consistent," said Sims. "I'm trying to get my completion percentage up…just being more consistent with the ball, taking my checkdowns, just getting completions, and moving the offense down the field."
Sims showed the ability to run the ball when he needed to as a freshman as well, adding another dimension to his game for which opposing defenses have to account. In all, he totaled 451 yards on the ground last season with five touchdowns. He ran for 100-plus yards in a game once as the tallied 108 yards vs. Duke but narrowly missed the 100-yard mark on a couple of occasions, running for 93 and 82 against N.C. State and UCF, respectively.
Patenaude said Sims entered his college career as a bit of an unfinished product at quarterback and what he did as a freshman was impressive from that point, but he expects him to take a huge step as he gets more familiar and knowledgeable with what it takes to be a polished quarterback.
"When he first came in, he didn't really know a lot about football, and where he is in a year is tremendous," said Patenaude. "What he did last year as a freshman in a pro-style offense was outstanding, but he was doing a lot of that just on instinct and athletic ability and moving around. Now he's doing it as a major college quarterback and you can see the difference. He's throwing the ball with authority. He's always had a good arm, right? He's a good athlete. But the ball is coming out on time so much faster because you just prepare yourself mentally over and over and over again. You see the plays over and over and over again. And it's really a tribute to him. And all the guys really have been in there. We're playing at a really high level right now. After two days, you know, we're not in pads, but just the reads in the throws and the on-time throws have been, you know, really exceptional."
Georgia Tech will continue Spring Practice over the next few weeks before playing their 2021 Spring Game on Friday, April 23 at 6 p.m. at Bobby Dodd Stadium. There will be limited attendance with tickets being reserved for students and football season ticket members.
The Jackets open up the 2021 season on Sept. 4 when they host Northern Illinois.