Practice Notes 4/9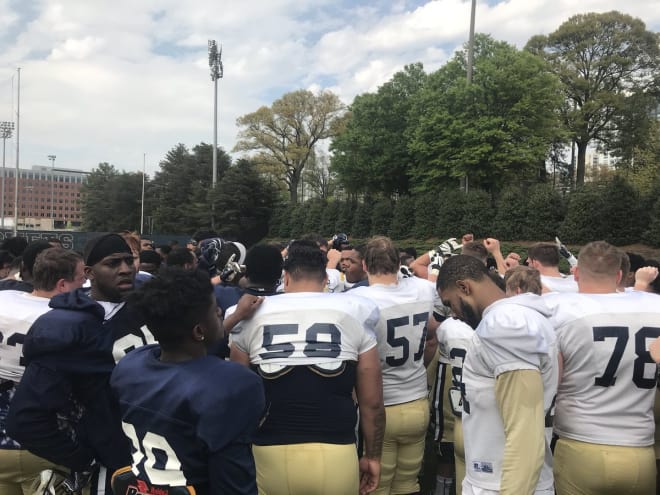 ATLANTA- After a day off the Jackets entered week three of spring ball with a cool day of football practice in full pads. Head coach Paul Johnson was in a talkative mood after Monday's session.
"It was kind of like I thought, there are some individual guys who are getting better and some guys who have a long way to go. Overall as a group have a lot of improvement to make to get where we want to be," Johnson said.
Building depth for the fall is a key part of spring ball and Johnson said much of the first-unit decisions are made in his mind, but figuring out the rotation is a key part of camp going forward.
"You'd like to get to the point where you have the depth set for Fall Camp or at least some idea. Right now the more reps you can get for guys the better especially the young guys," Johnson said. "You try to build the depth so you can picture who was going to play and I've got a good idea who the ones are at most positions, but it is who is going to be the third guard or third defensive end or those type of things," Johnson said.
Johnson said the wide receiver position remains an area he wants to see more from this spring. Junior wideout Jalen Camp is a guy that Johnson is excited about and thinks could succeed in the offense.
"He made some plays Saturday, Jalen need to be a good player for us, he has all the tools physically. He is big, he is strong and fast, but he needs to be more consistent as a player. It was good to see him make plays on Saturday, but there are a lot of things with blocking he needs to get better at," Johnson said. "He should be a killer blocker as strong as he is. You are talking about a kid who is probably a 400-pound bencher and power clean."
Camp said Johnson was close that he benches around 380.
As far as the third receiver spot goes behind Camp and Brad Stewart, Johnson said that Steve Dolphus has had an edge, but he needs to see more from him and from Jair Hawkins-Anderson and Adonicas Sanders.
"Different days, different guys have been better," Johnson said. "We've got to find someone who is consistent. Steve didn't play as well on Saturday as other times. We are trying to find four guys that is what you want. If you can't find four we will play with three, but we've also got a couple of freshmen coming in that have a chance to play too," Johnson said.
Coach Johnson confirmed to JOL that redshirt freshman defensive lineman Cortez Alston has left the Tech football program.
"He has been gone for a while," Johnson said.
Johnson inferred that Alston quit by say, "I just ain't feeling it dog."