Knight embracing new challenges at QB
Demetrius Knight has seen his projected role change dramatically since his commitment in the summer of 2018 to Georgia Tech. At that time, Knight a versatile athlete at Strong Rock Christian committed as a quarterback to run the triple-option offense under then-head coach Paul Johnson. By the time signing day rolled around that December, Geoff Collins was the new head coach following Johnson's retirement and his staff went to a pro-style spread and they had different plans for Knight.
Knight spent all of 2019 and 2020 at linebacker. He had a highlight moment in the 2019 season with a strip-sack for a touchdown in the Jackets' upset win at Miami. The 2020 season was a little rougher with covid protocols limiting his work. By the end of the year following the departure of James Graham, offensive coordinator Dave Patenaude and Collins envisioned Knight going back to the offensive side of the ball.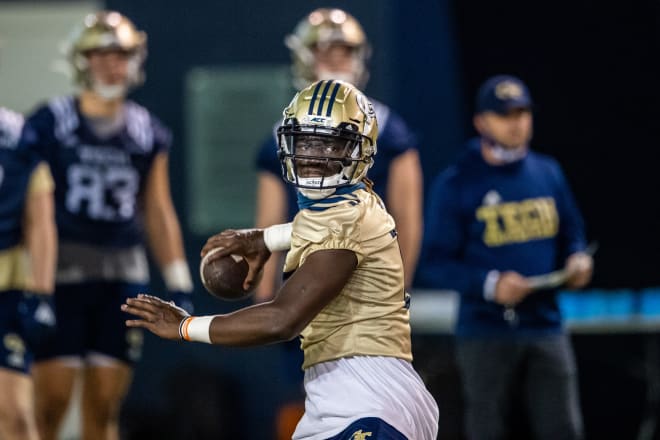 "It's definitely a crazy roller coaster of events thing after the Pitt game last year, there was gonna be like a certain package for me to play quarterback a little bit. I was excited about that and then I got contact traced, so obviously I couldn't play in the Duke game so it kind of hurt that whole quarterback situation thing. Of course, I'm still in my mind trying to be able to play linebacker and do that whole package thing so I guess that kind of brought the whole quarterback thing back up," he said.
The departure of Graham mid-season and Tucker Gleason in the offseason left the Jackets with just three scholarship quarterbacks for spring ball. Having seen some of Knight at quarterback during the fall, Collins decided to approach Knight about a change.
"With Tuck leaving that kind of brought an opening so Coach Collins brought me in and asked really what I wanted to do, what I wanted to play if I wanted to stick it out in linebacker, or if I wanted to bring some more love, more heat, or a little more excitement to the quarterback room playing quarterback. It is what I used to do and still love to do so I said why not bring no me back. So I cut off a few pounds of course and then I'm back in the quarterback room loving it again like always."
Knight said the decision was pretty easy for him in the moment and he appreciated how coach Collins handled the situation.
"I would say he got he approached me once the season kind of slowed down," Knight said of his meeting with coach Collins. "We started to get our plan for the offseason and things like that he wanted to sit me down. Have a nice one-on-one man-to-man meeting like that and asked me what I wanted to do because of course, he knew that there will be an opening at the quarterback position. He kind of brought it to me and I kind of jumped on it the first second he offered it just so I could let him know I was serious about it and not gonna look back."
After a few days back full-time at quarterback, Knight said the natural rhythm of playing the position is back for him.
"It was pretty much just like riding a bike. Of course, right now you put the training wheels back on and learn the offense or whatnot and learn the guys that you're working with but other than that it was just like jumping right back on the bike," he said. "Everything's still there even when I wasn't like back at QB I still found ways to throw just to you know to check to see if I still had it in me just a little bit and of course it was still there and it's always been there so i was definitely able to jump right back on that bike."
Thursday after practice Patenaude was very pleased with the progress Knight has made so far at quarterback this spring.
"Demetrius is very, very athletic. He's got a really strong arm, we got to polish some things up with him mechanically because he hasn't been doing it for a while. He's been dropping back and tackling people. So I think he's a very good athlete and when he takes off to run, and he's really dynamic," Patenaude said. "The thing that I love about him is that he knows where to go with the ball. He did a great job of studying during the offseason. He was in my office a lot. He asked good questions. In the first two practices, he did not look out of place at all. He knew exactly what he wanted to do. He missed a couple of throws, he missed a couple of reads, or whatever. But he knew where he wanted to go with the ball. He's looked, you know, looked really good."
The package that Patenaude installed for Knight involved short-yardage last year and he sees that as a role he can fill helping take some of the running duties off Jeff Sims plate this fall.
"I definitely see myself in the red zone area finishing off drives which of course is something that we've got to do because we can move the ball down the field excellent it's those little things like the NC State game. How many times we got down there but couldn't really finish? If we do finish that's a lot of points that we put up on the board and definitely see myself helping our team in that way playing the quarterback position."
Knight said the most difficult aspect of playing quarterback again is the limited reps. Tech typically has at least two linebackers on the field on a play, but there is only one quarterback and those reps get split between the four scholarship quarterbacks and sometimes walk-ons as well.
"The hardest thing about it I would say it's probably getting more reps because you know you got to switch in randomly," he said. "As of right now, I'm going with the kind of B and C group. So it's kind of getting a lot of reps at it, will it be new of course, and then being a new playbook. I'm definitely still understanding it very quickly and easily. It's just the repetition I'll need that a few more practices. So this spring is definitely going to help to build up to when we actually started to put the ball down. Then the easiest part, like I said, has been definitely being in the film room as Coach (Patenaude) questions us. Jeff (Sims) and Jordan (Yates) helped me out as well with reads and calls and things like that just so they can bring me up to speed so we can all be on the same level when it comes time to compete."