Johnson talks about North Carolina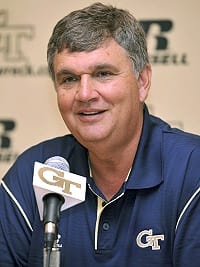 Georgia Tech (7-2, 4-2 ACC) goes back on the road this weekend to play the North Carolina Tar Heels. Tech head coach Paul Johnson talked about the game in his weekly press conference.
Opening Comments
"Saturday was certainly an exciting game. When it was over and we had a chance to watch tape and reflect on it, you have to give a lot of credit to the guys on our team for hanging in there and finding a way to make plays at the end. When you look at the play that Cooper [Taylor] made, it was one of those fortunate things where he put his hat right on the ball. The ball popped out and we were able to get it.
"This week presents another huge challenge. When you look at a complete team - offense, defense and special teams - North Carolina might be the best in the league. They have gotten contributions from a lot of different people in a lot of areas. UNC has a good mix of talent with some skill guys. Their quarterback, Cameron Sexton, has been very efficient since he replaced T.J. Yates, and their defense is very formidable. The front seven is very athletic and there is a lot of talent in the secondary. (UNC safety) Trimane Goddard is a big-time play-maker. There is a reason why they are playing as well as they are now. It is certainly going to be a challenge for us on Saturday."
North Carolina leads the nation in interceptions. What have you seen on film that has made them so successful?
"They get a lot of pressure on the quarterback and are pretty consistent in their coverage. They give a couple different looks, but play very good zone coverage. When they play two-deep, their safeties can play back and cover a lot of area. They read the quarterback very well and get good breaks on the ball. You couldn't do that if you didn't have a very good front seven to stop the run and pressure the quarterback. It all starts up there."
Can you talk about (Fr., S) Cooper Taylor and the intangibles that he brings to the team?
"Cooper is the type of guy that everyone would like to recruit. He's a great kid, exceptional student and you never have to worry about what he is going to get into after practice. He's a well-rounded young man and knows what he wants to do. He also has great athleticism. I wish I had a whole team of Cooper Taylors"
Have you talked to (Sr., OT) Andrew Gardner and has he decided whether he will have the season-ending surgery or play through his shoulder injury?
"I just talked to him and he's going to have surgery on Thursday. After talking with his family, they felt this was the right thing to do. We are very supportive of him and understand his decision completely. It's about a five-month rehab period and I wish him the best in his rehab and desire to play football in the future."
With Gardner out, what is the offensive tackle situation looking like now?
"Right now, we will start Nick Claytor and Austin Barrick. We should know more today about David Brown and whether he is still out. Clyde Yandell will be the back-up. Once again, that's two freshmen and a sophomore. Just put your hand down and play hard, and I think they will. Honestly, I don't worry about that stuff. You can't control it. If guys get hurt, then we'll put someone else in and let them play. My big thing is to make sure they know where they are going. If they do that, then they'll be fine. Nick and Austin pretty much played the whole game Saturday at right tackle and I don't think anybody noticed. One man's misery is another man's opportunity."
With the play of (Fr., AB) Marcus Wright on Saturday, has the depth issue at A-back finally started to work itself out a little bit?
"When they're all healthy then we have a few more bodies to work with (at A-back). Embry [Peeples] should be healthy this week and we need to get him back in there. In a perfect world, Lucas [Cox] would play more at B-back and that is what we are shooting for. Marcus (Wright) had a nice run on Saturday, but the thing that impressed me the most was his blocking. He blocked a couple of people really well and knocked a couple guys to the ground. He can do that because of what we do. Sometimes those small, more compact guys can get in there and block really well. Greg [Smith] played more. Greg and I both understand what he needs to do to play more."
You have forced 12 turnovers in the last three games. What do you attribute that to and does the defense get into a rhythm where they start expecting to get turnovers?
"I think so. If you are conscious of it then you are trying to get the ball out. On Saturday, Cooper got an interception and Michael [Johnson] got a big hit on the quarterback to knock the ball out. Then there was Cooper's hit in the final minute to pop the ball out. Those are good turnovers. To me, any turnover is a good turnover, but all three of those against Florida State were forced. Sometimes you just get lucky when the quarterback just throws it up for grabs at the end of a half or end of a game. The interception was tipped and Michael did a nice job to come from behind and knock the ball free on the sack. Cooper's hit at the end of the game knocked the ball out. It wasn't just like the back lost the ball."