{{ timeAgo('2021-04-20 13:35:57 -0500') }}
football
Edit
Freshman LB Meiguez out with a knee injury
Freshman linebacker Tyson Meiguez announced on social media on Tuesday that he suffered a torn ACL. Typically that injury requires several months of rehab and surgery. No timeline has been given for Meiguez to return. With the COVID year in 2020, Meiguez is again a freshman and could redshirt for the 2021 season if he is not able to return before the end of 2021.
The timeline for an ACL is typically six months to a year before a player is 100-percent healthy.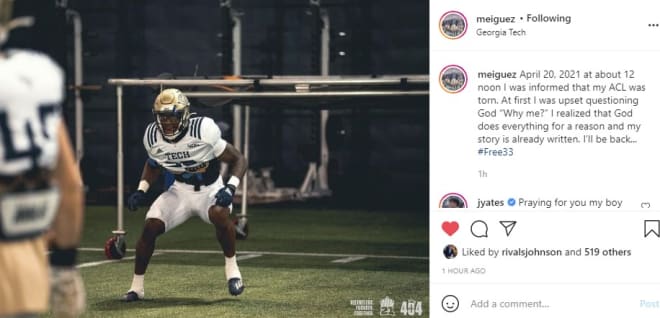 The Jackets added Meiguez, his high school teammate Khatavian Franks and Khaya Wright to a rebuilding linebacker room in 2020. Meiguez played just six snaps last season on defense.
Tech added former Maryland linebacker Ayinde Eley via the transfer portal as a graduate transfer and true freshman Treniylas Tatum this spring as well so that will help cushion the blow from a depth perspective. Quez Jackson and Charlie Thomas return from the main rotation last year at the top end of things.