Chan Gailey Talks Georgia Tech-Clemson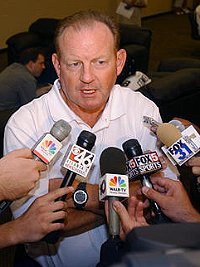 Talk about Hamilton from Clemson and the kickoff return situation.
Obviously he's a great returner. He hurt us last year and he does a great job. They've got a couple of guys back there, their kickoff return duo that is back there is very strong. We have to make sure that we do a good job. I think that Hal was the most consistent that he's been last week and he's got to continue to be consistent. We've got to get our guys downfield and covering their lanes. We were not getting in our lanes last week, and to me, if we just do what we're supposed to do, the basic fundamentals, we'll at least keep him contained. He's a great player but you better stay in your lanes because he can get across the field on you in a hurry. That will be the biggest thing for us, especially on punts, is to stay in our lanes.
Being known for special teams, can we expect something different every week?
I don't know if you can do that every week. But you never know. You might have something each week and you might not. You have to keep people off balance and keep them guessing and that is one way to do it.
Dan Burnett's start.
He's done a great job. He's been very consistent, and he's even had a situation in the ballgame last week where the timing wasn't right. He got off balance and still kept his composure and made the kick. That was a big step for him and for us, so he's been a very pleasant surprise and I'm happy for him as a player.
Does that build more and more confidence in him for longer kicks?
Yeah, we go into each game and we go out in warm-ups and kick to see what our range is for that day, both with the wind and against the wind. We have a pretty good pre-set idea before we go to kickoff where we will go for field goals and where we think we can't. But I have confidence in Dan, and I think the longest field goal was 45-yards the other night, so if he can continue to develop, I think we will have confidence in him shooting for a 50-yarder.
After the game the other night you said you thought lack of depth was a factor. With the no-huddle by Clemson, do you think it'll be a problem.
Well I think it will always be a problem, unless one of things: if we do like we did in the first have and play 16 snaps, or second of all, we can develop some depth at some point. We don't have an gimmies on our schedule, every game we are playing to the very end to win. We have to get off the field by stopping third downs and keeping the other team off or we've got to control the ball on offense to keep our defense fresh.
Anticipate playing more guys on defense?
We'd like to, but how do you do that if they don't have any experience? If you don't get ahead in games, how do you play those guys? It's a tough little cycle that we're in right now, where we'd like to have a couple of games where we can play some people to let them get some experience. Then they get confidence in themselves and we can get confidence in them to be able to go in and play at crunch time.
Sense of vindication among coaches and players?
I don't think anybody on our football team thinks about vindication. Our guys go out and think about playing hard every week. The one thing that has remained consistent through the first three games of the season is that we have played hard. We have come up short in some areas, whether it be execution or being able to finish a game because we're worn out, or whatever. There are a few reasons, but I don't think our guys worry about vindication or showing people, they just want to go play hard and be successful.
Tenuta's impact in the short time here.
I don't think that you can understate what he has done. I don't think that there is any way to understate that. He has done a great job. He and his staff, Coach Haley and Coach Spencer, have done a great job of putting together plans, getting the players to execute those plans, and then the players going out and doing it. That's been a big part of our success thusfar, which I think is obvious to everybody. He is very intelligent, very tough, and does a great job in leading our defense.
When you hired him, did you envision things working out with him as well as they have?
Well, I think that you always envision that. I think you envision greatness. You see greatness in your mind and you hope for greatness. The thing that we've had is two years of continuity. These guys have been in this system now for two years. I think as we continue to develop as we recruit players and continue to develop the scheme and get better players on the field, I think we'll continue to improve on defense. These guys have done a good job, we've just got to keep working to get better in some areas. We've got to finish at the end, whether that's depth or just getting off the field on third down one of those times that might make the difference in the ball game.
Still early in season, but do you worry about losing Tenuta to a head coaching job?
If he gets an opportunity that he likes, I'm all for him. Somebody gave me a shot one day. He's a great coach, and I'd be happy for him. That's one of the reasons that we're here: for people to get opportunities, players or coaches.
Emotional roller coaster for team during first three games?
I don't know that anybody thinks that it's been difficult. I think everybody is trying as hard as they can to be the best that they can be. I don't sense players on an emotional roller coaster or coaches on it either. I see us working hard to be the best that we can be and getting better each week. Our players have a better feeling about themselves than probably other people do, and they have had it. If they didn't have that confidence, we couldn't have gone out and played the way that we have. You have to give a great deal of credit to our players in the way that they've handled themselves and the confidence that they have and the way that they want to go and compete every week.
How does getting better every week, which is what you said at the beginning of the season, figure in now? Last Saturday's game won't matter at all if we don't go out and play this week, right?
Sure. The thing that I believe about our team is that we don't have any unrealistic ideas about ourselves. I think we understand that we have to go fight every week and try to get better every week to win football games. Because we beat Auburn and came close to FSU means that we were 1-1 in those two ball games, that's what it means. Our guys, I think, understand that, and we have to go win this one this week. I think they'll go prepare and play as hard as they can play this Saturday night.
Important game because of proximity and rivalry?
I think it's an important game. Recruits are human, they look at positive and negatives. One positive would be which team won, or one negative would be which team lost on a year-to-year basis. We end up recruiting one or two of the same guys every year, so yes it's a part of the process and it does have an impact.
Explaining the number of close games against Clemson? Talent level nearly same?
You've got me. If I knew why games were played the way they were played, I'd be in the prognosticating business.
How important has the leaders of the team been to avoiding what people outside the program are saying about the team?
As I stated earlier, I don't think you can understate what Tenuta has done for the defense, and I don't think you can understate what the leaders on our football team in the offseason, throughout the summer and through camp. Notice I didn't just say seniors. I think we've got some leaders on this football team that aren't just seniors. We've got some underclassmen that are taking a leadership roll on this football team and I'm proud of the way that they have handled everything as well. There's always ups and downs and the people that can maintain their concentration and confidence level when things aren't good is the measure of a man and the measure of a team. That's what we are hoping that we're getting better at each year.
Players saying during the summer that they were behind you. What did that mean to you?
I think you always appreciate the support of your players. You have to have that, you have to be on the same team. You can't have a successful business or successful anything, school, church, anything, if you have a faction over here and a group over there and a little clique over here. If you're not together working for the same things and believing in the same things, then you don't have a great chance for success. But if you can stay together, you can really increase your opportunities for success. What I came out of that meeting with was that we were all together, and I thought that was good.
People adopting the team because you've been through so much, and played especially well over the past two weeks, do you think the fans appreciate what this team has done?
I think fans, in general, appreciate effort. And our society loves the underdog. That's the way our society is today. It doesn't seem unusual to me just because of what's happened the last few weeks, but we've got to continue to get better though. That's what's going to matter in the long run. Keep playing with the same effort and continue to execute better.
Reggie said that you weren't going to lose again this year, how do you feel?
When I heard that he said that and I saw that in print, I said that it would end up on every wall of every team that we'll play from here on out and I loved his confidence. You can weigh both sides of it. He wasn't making the statement glibly. He believes that, and that's great.
Ball made great reads in the first half, showed arm strength, stood place on it's head last week. That aspect: his confidence, bordering on cockiness or whatever it may be, that's an important trait for him to have in terms of where you're going, right?
Always. The quarterback is the guy that is quoted and talked to and interviewed and scrutinized the most. But you hope that every guy on your football team has that same type of attitude: confidence verging on cockiness that allows you to go play, cut loose, believe in yourself, and be successful. That's what takes guys that don't fit the size and speed mold and allows them to be a great player at some point in time, because they do have that belief in themselves, in what they can do, and where they can be. We've got our measure of those guys on this football team. They don't fit the mold, but they're going out there and playing hard and believing in themselves. They're playing good football, not great football, but good football.
We've gone out for the last few weeks and seen what Reggie Ball can do, but you saw it for however many weeks in fall practice. What could you see on the practice field that we're now seeing.
I think we saw the confidence, knowledge, and willingness to take a chance, but not dumb chances. Calculated risks, he understands risk-reward playing the position. He's got more to learn, and I knew that and everybody knows that. But he carries himself and handles himself very well. He was worn out in the second half of that ball game. That's something that you have to get used to, playing in that environment just sucks your energy. You've got to be able to handle that, and that's a maturity thing. I couldn't prepare him for that, he just has to go experience it. The next time that he faces a type of environment like that, he'll be better prepared for it.
How close is your offense to where you wanted overall...production-wise.
Nowhere close. We're going to base our offense on points scored, not turning the ball over, not taking sacks, allowing ourselves to be in a position to win every ball game. Our offense has played in spurts very well, at times. But we are not close to where we need to be in some areas, and it will take time. This is a new offense this year, and it's going to take some time to get it all in place.
Is this team where you thought it would be after three games?
No, I thought we'd be 3-0. That was the plan, so we're two short of that. That's the way that I go into every week, expecting to win. We're not where I expected to be, but we're playing with the effort that I thought we would play with. We're giving that kind of effort, and now we've got to get better at the other parts of the game.
Getting a play in once the ball is spotted, and deciding what play to call, talk about that.
There are so many facets to that question. First of all, the other night, we had an officials crew where the game was going fast. The ball was being marked and the 25-second clock was going very quickly in that ball game, as opposed to the games that we had been in the other two weeks. So I had to adjust to that early in the ball game, when I saw how quickly they were doing that. We ended up having to take a delay-of-game early and that wasn't Reggie. That was us adjusting to that facet of it. But a lot of it is experience, having done it before. A lot of it is preparation pre-game, knowing what you want to call in those situations. What are you trying to do in that situation? Something that is totally against what you've done previously? Are you trying to break tendencies, which is something that I try to do early in the ball game, break tendencies. We're trying to make sure that we show certain formation and personnel groups early to see how they're trying to adjust to those situations as well. Then, by the time you get to the second quarter, you feel the game from there on out for what you have to do.
How much time do you have to get the play in?
Normally about 15- to 20-seconds.
Do you think you play it close-to-the-vest in play calling and do you take any satisfaction in disproving that?
I don't know. Five years ago I was a guru. And then two years ago, I was conservative. It waivers back and forth from year-to-year. You do what you have to do to try to win football games with your football team and your people. I don't worry about what people think.
How different is your play-calling in college versus the pros?
It's not college and pro, it's team-to-team, it's year-to-year, it's personnel-to-personnel, it doesn't have anything to do with college and pro. You call according to what you have, what they have, what the situation is, and what you're trying to do with the football in that instance, and you make decisions. That's part of it, you've just got to make it in about 15 years, but that's part of it.
Where were your guru years? Dallas?
Oh you remember, I got hired at Dallas. What we did with Kordell and all of that stuff, everybody thought that I was wide-open, flamboyant, all that stuff.
But you ran the wishbone to win a national title.
Right. You do what you have to do to win. We threw it a lot in the wishbone though.
How much do the players in between series have an affect on the play calling?
Very little. As we become more established, as they gain experience in the system, I might rely on that. But right now, I've been doing this offense for 10- 12- 15-years, whatever it is, and I have the most knowledge of anybody about it. So I depend on myself and what the coaches, who know what we're trying to get done, are telling me. I get the information from them. As time goes on, in the system, or even maybe at the end of this year, I don't know. If everybody starts to get comfortable and knowledgeable about the system, then you do listen more to what you're players are saying. But on the touchdown to Mark (Logan) the other night, against Auburn two weeks ago: he came back and said that they didn't cover him on the flag route. So we went to Reggie (Ball) and said to look for him the next time that we run this, we flipped the formation over and ran it to the left, and that was the touchdown to put us ahead 17-3 in that ballgame. So we'll listen to something, like if he says that he was open on that play. But as far as play suggestions, I don't do that right now.
How much input do you get from Patrick (Nix) and Buddy (Geis)?
I get a good bit of input, and from Joe (D'Alessandris) as well. Curtis (Modkins) will talk to me on the sidelines about the running backs and what he thinks the best running play might be. So I get good information between series. I ask them not to talk to me while we've got the ball, but between series I try to get information.
How close are you at being where you want to be this year?
We're within two games of being where we want to be. That's all I can say. Your goal is to win them all-to win the national championship. If you're not trying to win the championship, why do you lift weights in the off-season? Why do you run sprints when it's 100 degrees if you're not trying to be the champion. So that's the goal: to win the championship. Right now we are two gamed below where we want to be for this season, and we'll play the rest of them and find out.
Identity of the team more often seems to be its defense.
Well I'm old-school now, and I believe that defense wins championships. If you can run the football, stop the run, and play special teams, you're going to win a lot of football games. It isn't very flashy, it isn't very pretty, but it wins a lot of football games. The premise of what I believe starts there. Now, I'm hopefully smart enough to realize that you have to keep people off balance and do some things, fake some punts, whatever it takes to get some things over the hump and win ball games from time to time. I understand that facet of it too: you can't just be three yards and a cloud of dust and load up nine men on the line of scrimmage defensively on every snap.
Reggie (Ball's) play list.
It's waivered back and forth. The most on there was BYU. The most numbers on the list, that is. But it probably had the fewest number on total plays because we duplicated plays because of formation changes and things like that. We change things week-in and week-out because you can't go out and do the same things that you did last week or the defenses will kill you. He's been able to adapt to the subtle changes that we've made pretty well. We've got to continue to expand on what we can do offensively though and I would hope that we'd get better. The number of plays isn't nearly as important as the exectution of the ones that we've got. So having more plays isn't the answer, it's executing the ones that we have, better.
Are there certain teams that you anticipate every year being good and/or tough games?
It'll always be a good game against Clemson because they have good athletes. They're a good football team, good program, so I always expect a close, hard-fought, win-it-in-the-4th-quarter game with them. Really, I can't name anybody that I don't feel that way about.
Your role model?
I think we're all a product of everyone we've ever been around. Being around Dan Reeves and Mike Shanahan, and even Bill Cower, he was a defensive guy, but I learned stuff about play-calling from him. I'm a product of everybody that has touched my life. I've taken what I've liked from their life and tried to incorporate it into mine, and those things that I didn't like, excluded it from my life. My beliefs, and everything I try to do. I'm a product of those people.
Is there a particular stat that you look at?
There are two stats that I've always believed are the biggest stats: turnover ratio and sacks ratio. Those are the two biggest. If you go back and add those up at the end of the season, you can tell that if a team was plus so-and-so in sacks and plus so-and-so in turnovers, then that normally is going to be a very successful team. If you're not a successful team, you're normally going to be down in those areas.
Do you build your offensive and defensive systems around those to make sure that they are positive?
You can't build your whole program...if all you thought about what turnovers and sacks you'd be blitzing every snap and not worried about long passes. I can't say that, because we worry about those too. What you do is you understand what you need to get done and then you set up things to help you best accomplish that, but you don't sell-out to only those two facets of the game. If that was the case, you'd max-protect every block for 10 and throw it to one guy so you wouldn't get a sack and hand it off off-tackle and never turn it over...but that's not what you do.
Surprised Clemson game not on television?
I guess I am a little bit. But there's a lot of good football teams out there and there's only a certain number of games televised each week. We've been fortunate to be on television a great deal, it happens sometimes and it doesn't happen sometimes. Everybody out there in the world of media had us picked so bad, that nobody thought that anyone would want to see us on television. So they didn't plan to put it on television.
Clemson has struggled with teams running up the middle. Is that something you are going to exploit?
We know that we have to run the football between the tackles. That's something that we have to do. That's something that we're better at than getting the ball outside. We'll do our job between the tackles, but we again are going to work very hard at expanding our running game to get the ball outside some, too. We've got to be able to do that, we can't just rely on inside. But the thing that has happened, when you get down to it, is people are so worried about Reggie booting and running the nakeds and the boots outside that they are widening their ends and playing their backers up the field and it gives us more inside run game and makes it tougher to run outside. So you have to take what they give you.
P.J. (Daniels') numbers looked pretty good last game. Has he started...?
That's just pretty good to you, against Florida State's defense.
It looked like you took him out of the game after he fumbled the ball.
I did. I sure did. He didn't cough it up after that any more either, did he? I think we have to understand how valuable the ball is and what we have to do. There's a guy that you look at and your proud of every second that he plays on the football field and every yard that he gets because it's important to him and he's worked his rear off to get to where he is. You love to see something great happen for a guy like that, because he's come a long way to get here. And I'd love to see a bunch more days like that for him.
Whitehurst on film.
He's played pretty good. He's made a lot of things happen the last two weeks, especially. I mean, 450 yards of offense in the last two games or something, they are really doing a good job. You look at it, and he's got some good weapons and he's taking advantage of those weapons. They're doing a good job of taking his talents and doing what they're doing. He's an older guy, but of course, compared to our guy, everyone's an older guy. He's been around for a while, it's not like he's just played eight games. He's been around even longer than that, so he understands the game. Of course, with his background, he understands the game maybe better than others.
Hill has more tackles than anyone on the team. Talk about him.
Well, he's the middle linebacker, and that defense is set up for the middle linebacker to make a lot of tackles. They're probably blitzing a little bit more with him, bringing him in off the edges, than I remember them doing last year, so he's making some plays there as well.
Fox leading Tech with tackles, product of defense getting to ball or is it designed for him?
We try to put him in position to make plays, and you can put a bunch of people in position to make them, but they've got to go do it. He's going and doing it. He and Daryl are really playing well right now.
Everyone looked at them as a strength of the team coming into the season, have they exceeded those expectations?
That's played itself out. I don't know if it's exceeded the expectations because I had a great deal of confidence in them coming into the season as well so I can't say that they've exceeded, but they are certainly playing very well right now.
Reis being out...what are you going to do with nickel package?
We'll have to either do it a different way, get our nickel coverages in a different way with a different personnel group or just put somebody in for him. It could be one of two or three people that we use at that spot for him if we decide to go to that package.
Is his being out short or long term?
It looks more short term than long term.
Emphasis on Clemson game because of loss to FSU?
Sure it does. This is an important game because it's the one this week. You have to take this game this week, the next one the next week... First of all we don't play a schedule where we can overlook anybody. Every week we line up, we've got to go play well to win. Secondly, we don't have the depth or the experience right now to say that we've arrived, because we haven't arrived. We're still fighting our rear off every second.