{{ timeAgo('2022-06-19 13:54:11 -0500') }}
football
Edit
Ala. OT Patrick Screws picks GT over UGA, Ole Miss others following OV
Georgia Tech added what may be their biggest commitment so far in the 2023 class on Saturday evening.
Eufaula (Ala.) OT Patrick Screws Jr., a long-time target for OL coach Brent Key and the rest of the GT staff, announced his decision on the final day of his official visit.
Screws, who becomes the 10th commitment for GT in the month of June, chose GT over other offers from Ole Miss, UGA, Jackson State, and several others.
He joins fellow OL Ethan Mackenny, and OL Elias Cloy in the class.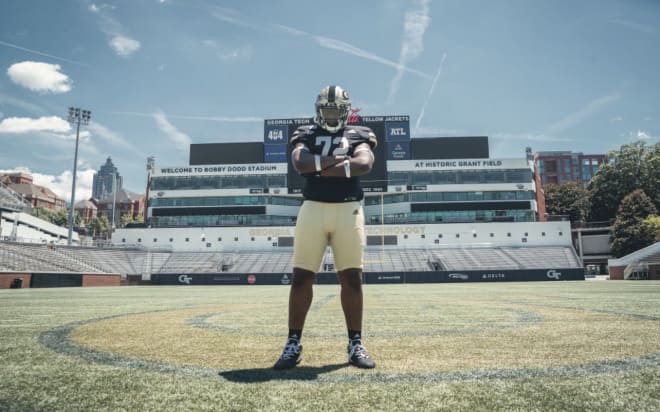 The commitment moves Georgia Tech up the rankings even further; they now sit at No. 32 nationally heading into the second half of June.
"The coaches were jumping around when I gave them the news," said Screws as he left Atlanta on Sunday morning. "The vibes there (in Atlanta) are great. From the coaches to the players, everyone has the same vibe. Everything about the visit was amazing."
Going into his weekend in Atlanta, Screws and his family had heavily prioritized relationships when choosing which schools to visit officially. Those relationships at GT played a big factor in his commitment.
"Coach (Brent) Key and Coach (Nate) Brock are the two coaches I have the best relationship with at GT," he said. "It was fun just talking about life in general this weekend with them, and getting to know each other better. It was a great chance to see who they really are. I am going to fit right into the new offense as a tackle."
The players that Screws was able to spend time with this weekend also played a large role in his decision, as well as the timing behind it.
"Hanging out with the players and building a bond with them and the coaches was our favorite part of the official visit. I was able to spend time with guys on the OL like Brandon Best, Tyler Gibson, and Bobby Mooney among others. Also got to hang out with DL K.J. Miles."